Hidden between mountains in north-western Pakistan's Chitral district lays the Kalash valley, home of Pakistan's smallest religious community. Due to several reasons, the religion, as well, as culture of the Kalash people is close to extinciton, so I made my way to one of their villages to learn more about their unique culture and history.
The Kalash people are probably the most colorful dressed people in all of Pakistan and are descended of Alexander the great's armies, who has conquered huge areas of Central Asia in 330 BC.
In the 19thcentury, the Muslim Afghans conquered the Kalashs, destroyed all their temples and forced them to follow Islam. A minority survived this terror and settled in the current Kalash Valley, which would later become Pakistan.
Since then, another 50% of the Kalash people have converted to Islam due to the influence of new Muslim settlements in the Kalash Valley.
Being a minority in Pakistan with only 5,000 people, the Kalash people have their own religious beliefs of Animism, as well as a really unique culture.

In contrast to most places of Pakistan, women and men are not separated and are free to choose their partner. Divorces are socially accepted, as well as flirting and dating. In addition to that, Kalash people are producing their own wine which they drink plenty during their colorful festivals.
All of their three main festivals are related to nature and its blessings. The Kalash people celebrate rich harvests as an example and have shrines at which they sacrifice goats to worship their god "Dizaw". However, the Kalash people are not considered as monotheistic, as they also worship other gods and spirits, similar to Hinduists.
Kalash festivals
Chilam Joshi Festival (Kalash spring festival) 11th until the 17th of May
Festival of Uchal (Kalash summer festival) 19th until the 26th of August
Festival of Choimus (Kalash winter festival) 15th December until the 21st December
The Kalash culture
While men wear the usual Shalwar Kameez, women present themselves in the most colorful outfits I have seen until now.
The women's dresses are usually in bright colors such as pink, green, blue or red and have multiple colored ropes attached to them. In addition to that, women wear a colorful hat called Shu-shud, from which thick colored ropes hang.
The tradition of women wearing a Shu-shud is more than 2000 years old!
Another interesting cultural rule of the Kalash people is their treatment of females who are on their period or give birth to a child.
In both cases, women have to go to a separated house, called Bashali, and stay there until the child is born or the period is over. According to the Kalash culture a woman wandering around during her period would bring bad luck for the family.
The Kalash Valley is divided into three valleys, Bumboret, Rumbur and Birir.
Bumburet is the biggest and also the most commercialized one and Birir is the smallest with nothing much going on.
A perfect alternative is Rumbur which has a lot of natural sights to offer and where the Kalash culture is not commercialized (yet).
It's quiet and peaceful in Rumbur, as only one small road goes through the village that is rarely used by cars.
As the Kalash village is far away from modern civilization, the Kalash people live a simple and remote life in which they rely on the sun to have electricity, don't have running water, are self-sufficient and live in wooden shacks.
Respectful and responsible tourism in the Kalash valley
The Kalash people are friendly and hospitable people who welcome guests with open arms. To preserve this positive perception of tourists, one should act responsible and respectfully while visiting the Kalash valley.
The culture of the Kalash people does NOT get preserved for the pleasure of tourists and the likes on their Instagram or Facebook posts, but because of the culture's idle values and strong historical meaning to the people of the Kalash valley.
Therefore, I request you to please be a respectful and responsible tourist who doesn't treat the Kalash people as zoo animals.
Ask for permission before you take a picture and respect if a person says no.
Most of the Kalash people are even quite shy when it comes to taking pictures and you should ask yourself how the perception of tourists in the Kalash valley will be damaged if tourists start treating the Kalash people like zoo animals instead of fellow human beings.
Some of the Kalash people even speak decent English (like Engineer's son) and I had many interesting talks with them about their life and culture.
Just be friendly, learn a couple of words in the Kalash language and you will experience what I mean by saying the Kalash people are hospitable people.
Make sure to stay at local family's place during your time in the Kalash valley and mainly consume goods produced by the Kalash people in order to support them financially while visiting their beautiful valley.
Where to stay
I highly recommend staying at "Engineer's guest house". It is run by a lovely local family and one of the first guest houses when entering Rumboor.
The son of "Engineer", Yannis, knows a lot about the Kalash culture, speaks decent English and is really helpful when it comes to planning one's trip in the Kalash valley.
Their rates differ, but you should pay something between 10-20 dollars per night (including three free meals).
The food is delicious and a good break from the usually meat-heavy Pakistani dishes.
Furthermore, the guest house has a porch to sit on and enjoy the valley-view, as well as basic equipped bathrooms. Rooms are comfortable, clean and cozy!
How to get to the Kalash Valley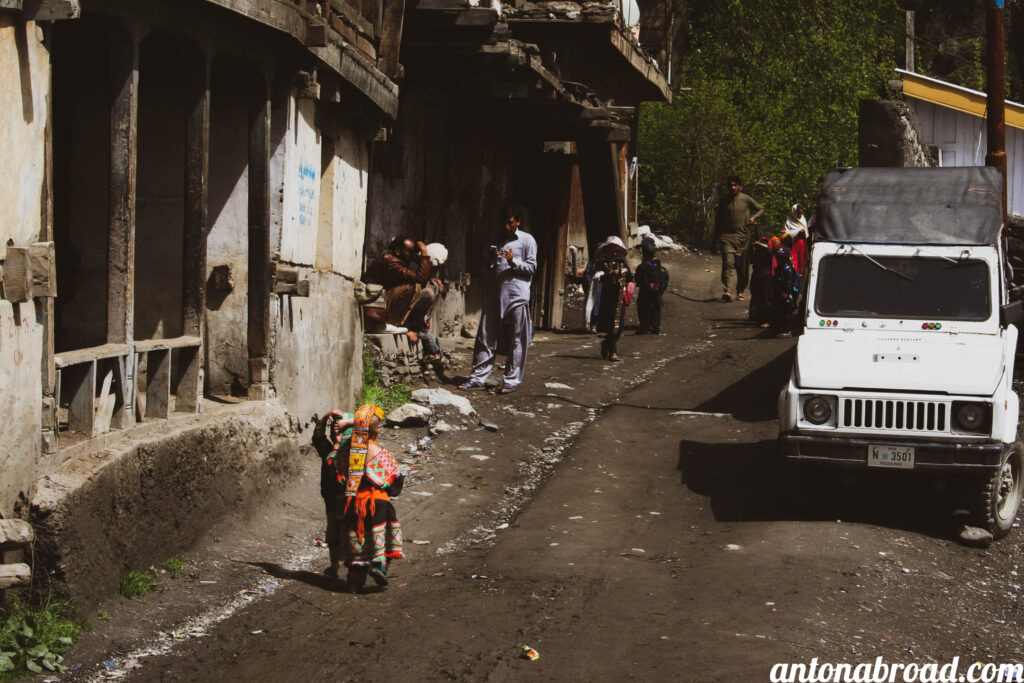 When I visited the Kalash Valley, a friend of mine offered me a lift from Swat to Batkhela (about 3 hrs. north of Peshawar).
From Batkhela I took a mini bus to Timergara (130 Rps.) and continued from there by mini bus to Dir (120 Rps.), where I spent the night. There are two guesthouses in Dir, directly located next to the bus stand. I stayed at the cheaper one (250 Rps. / night) which I would not recommend as it was really dirty.
From Dir I hitchhiked, as only hired taxis were available (1000 Rps. to Chitral), to Ayun and took a shared taxi (150 Rps.) to Rumbur.
Before we reached Rumbur, the taxi got stopped and I had to pay 600 Rps. "foreigner tax to support the Kalash people" as the Levies soldier told me. In addition to that my name, date of arrival, etc. got registered and I had to hand over a copy of my passport.
Safety
First of all, the Kalash Valley is 100% safe nowadays, even for foreigner. However, I heard from other travelers that it's impossible to stay in the Kalash valley without an army soldier of the Pakistan Leviesaccompanying you.
Due to the proximity with Nuristan, a Taliban-controlled area of Afghanistan, the Pakistani army has orders to protect foreign tourists as much as possible and therefore offers this free security service.
When I visited Rumbur in 2019, the Pakistani army didn't offer me a personal guard and told me that the area is safe to wander around alone.